Description
Owl Unit Study – Virginia State Study
During bible, kids will learn about wisdom, Scripture memory, and practice handwriting (cursive and print). Phonics, spelling, vocabulary, and loads of reading materials are built into the interactive study.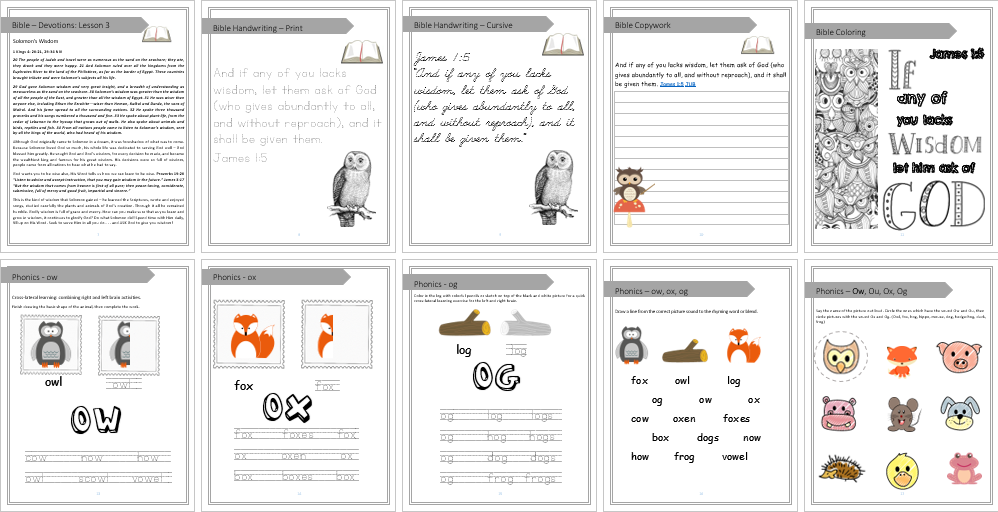 Owl Unit Study – Science and More
Owl anatomy, current studies, biomimicry, Bernoulli's theory, owl pellets, and lots of science fun are packed into this 88-page study for all ages. Flight experiments, videos, and notebooking pages are included with ideas on how to use them.
Parents are saying:
As a homeschooler of two girls that are several grades apart, I loved this wildlife adventures study of Owls. I have a first and 7th grader and because of the quality and variety of material provided, I was able to tailor the lessons according to both girls levels of reading, history etc. The unit engaged both of my girls and got them excited about an animal they had not really thought much about. It is gratifying to hear my first grader explain the proventiculus to the kiddos in her Awana's class. I love that all I have to do with this study is to add mathematics and we have covered all the core subjects (reading, spelling, history, geography, art, writing) and it all ties together. I wish I had discovered unit studies when I first started homeschooling. The girls loved it. ~ Amy Rohrer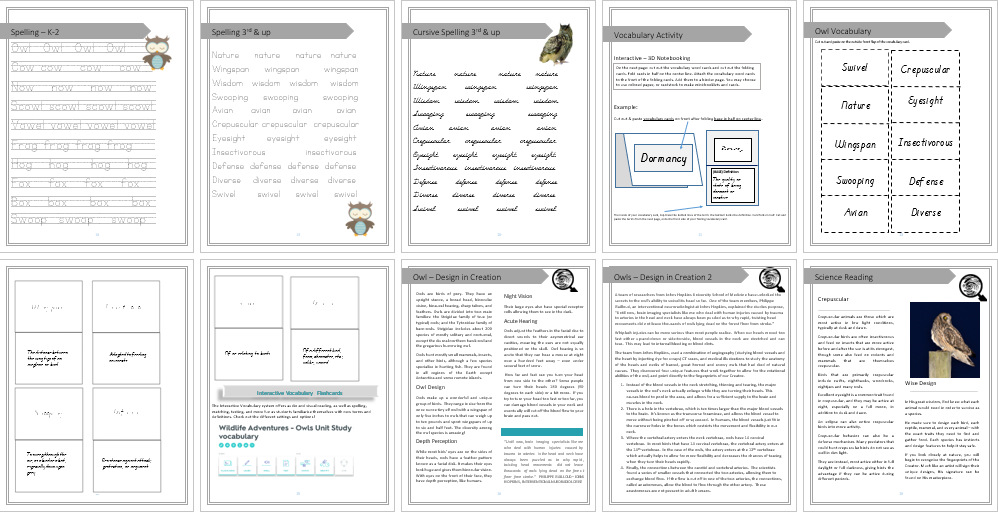 Bonus Activities are great for hands-on learners, crafty students, and those with dyslexia and different learning abilities.
I can't thank you enough for this curriculum! Nature Science is our learning connection with him (our little aspergian student). He is loving it, so far he's really enjoying this unit study. ~ Brenda Green
We suggest that you recommend students try all the activities, but students who really don't want to create the 3D notebooking may simply read, write and/or use the interactive online vocabulary program.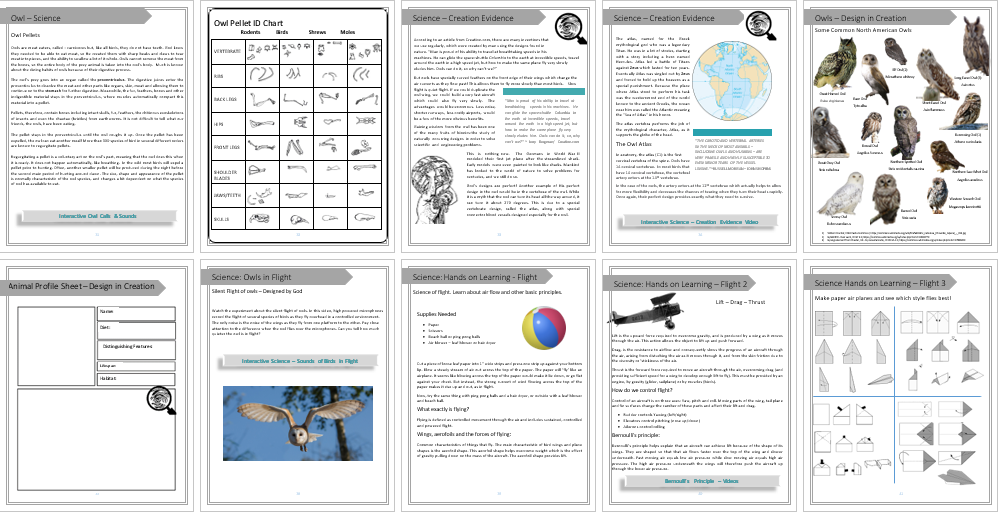 Hands on Learning and Dyslexia
Younger students and those with dyslexia will enjoy several coloring pages and activities to work on while listening to the science and history lessons. More than "just busy work" these projects provide learning opportunities to engage both sides of the brain. The result is better understanding and retention of the material.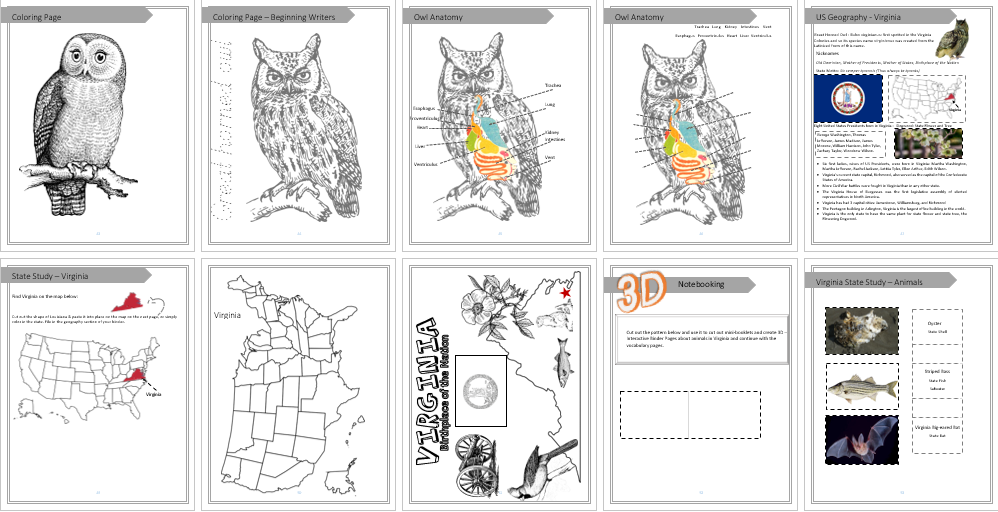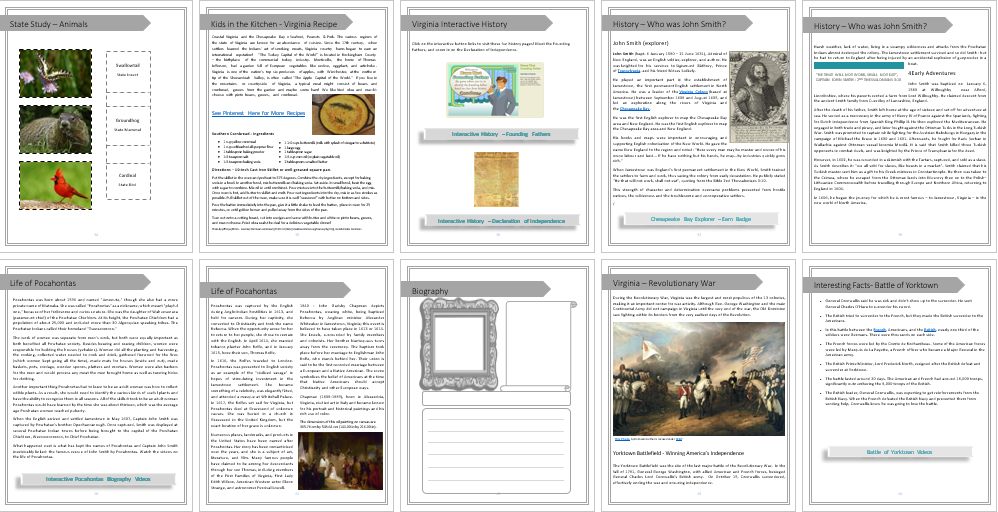 History and Geography
As the great horned owl was first discovered in Virginia, students do a state study and learn about the history of Jamestown, Virginia – John Smith, Pocahontas, and much more. A world geography section is also included.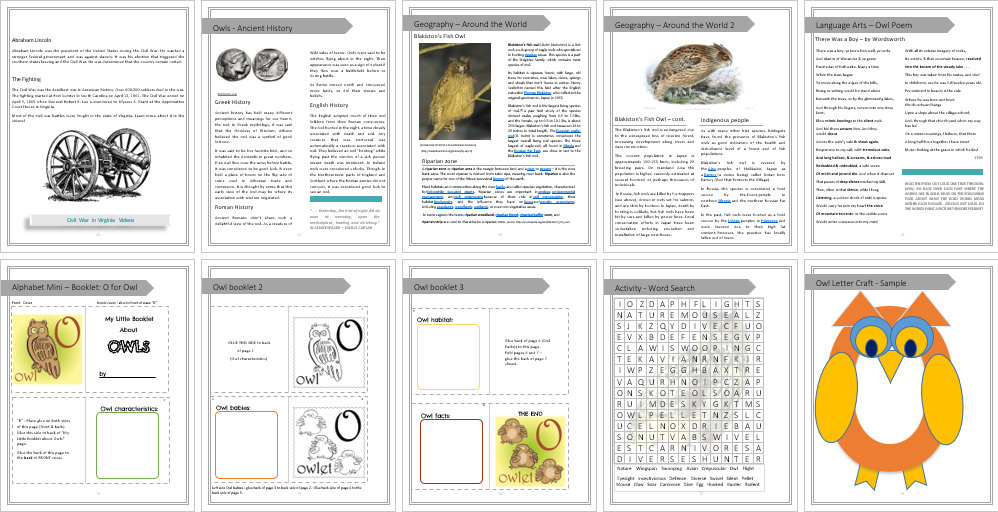 Owl Unit Study – Language Arts
Language arts include a descriptive poem by Wordsworth, for both elementary and older students, and an owl booklet for the younger students. Additional ideas included for teens (middle and high school).
Design in Creation sections will help students of all ages learn to recognize the design "fingerprints" of the Creator.
Also included – brand new Teen Study Ideas page with loads of suggestions for projects related to the lessons. These projects are creative and needed for higher learning – for both middle and high school students.
Additionally, materials are provided to help students learn to write biographies and research papers. Getting ready for graduation and college doesn't have to be boring! Teen project ideas consist of PowerPoint presentations, research papers, creating videos, news reports, and more.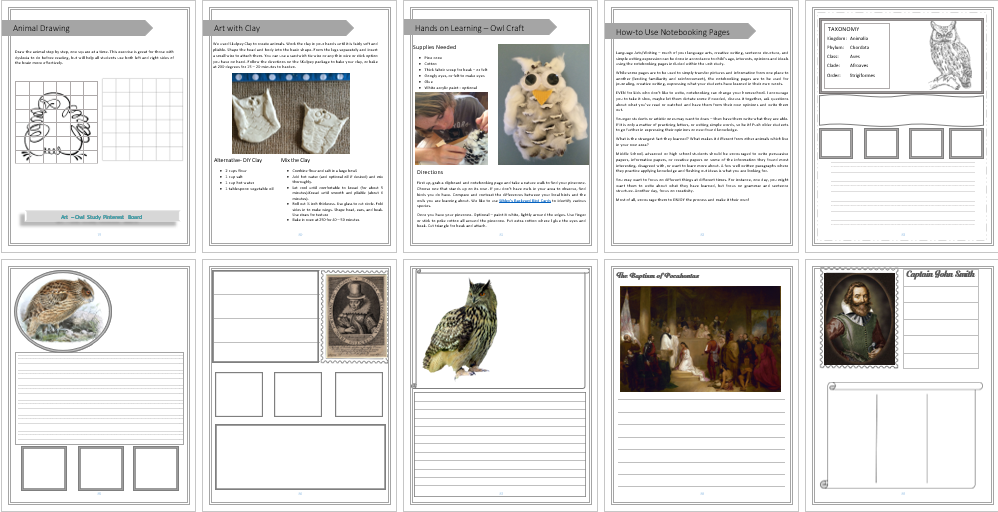 The Adventures unit studies do not include math. They are designed to be used daily for a week, or once a week – for a month. Each unit study has materials for multiple ages so you can teach the family together.
Other details about Adventures Owls Interactive Unit Study
Bible Study – Wisdom
Language Arts – Wordsworth poem
Geography – Virginia
History – Jamestown, Virginia (John Smith, Pocahontas)
Science – Owls, biomimicry, flight
Reading – woven throughout the unit as well as optional library list
Teen activities – Powerpoint, videos, research paper & more
Kids in the Kitchen Recipe – Southern Cornbread
Cross lateral learning – Projects and activities to help students with dyslexia and all different types of learners understand and retain materials.
Bonus material – Nature activity cards (value $4.99)