Description
Magnificent Frigatebird – South Pacific Unit Study
Exploring God's creation is an effective way to put joy and excitement into your family homeschool. The simple project ideas include hands on learning and the unit study is a simple system that will help your children retain what they learn.
Sample Pages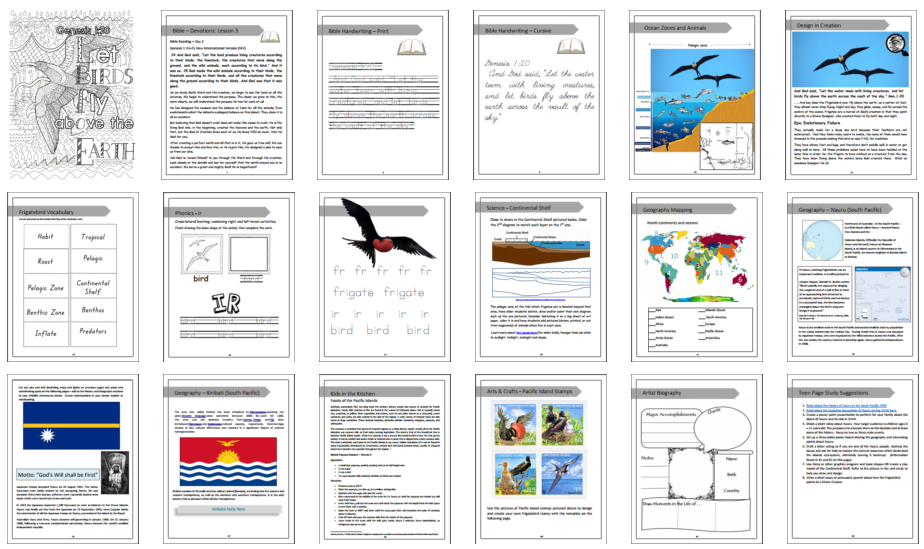 This unit study includes 75 pages of resources and information – so the whole family can enjoy learning together. The study covers multiple age groups and the subjects you need for a week of homeschool.  The suggested lesson plans are designed for a 3 day week – leaving days 4-5 available for field trips or additional research and to explore recommended books. It is designed to be flexible and used in the way it works best for your family. You can mix it with existing curriculum or use it on its own. Choose daily or weekly plans.
There are coloring pages, and letter practice pages to help keep your youngest learners busy while older students have additional research options. New Teen Pages have been added to the 2018 update!
Learn to use your child's natural curiosity to inspire a lifelong love of learning. The Magnificent Frigatebird – is Magnificent for a reason.
Additional features include
Bible and Handwriting – Genesis 1:20 – Discovering God's fingerprints on creation.
Science – Frigatebird – Natural history, science of wind. Oceanic zones and animals. Continental shelf.
Geography – Mapping,  South Pacific study profile (Nauru and Kiribati) and icons, Atlantic and continents.
2 Spelling lists for older and younger students alike.
History – Nauru (South Pacific), WWII
Kids in the Kitchen – South Pacific food/ recipe
Language Arts – Exploring biographies – Walter Addison (artist profile)
Reading – Woven throughout the unit study – includes optional book list
Art Crafts and Activities – Coloring pages, word games, worksheets, notebooking pages. Walter Addison- design a stamp.
Teen Page and Activities – Power point, videos, research paper and other ideas for further study.
Cross lateral learning – Projects and activities to help students with dyslexia and all different types of learners understand and retain materials.
Free pages to begin or add to a creative unit study binder where all your materials can be kept for review or as a portfolio of your homeschool work!