Description
Jellyfish Unit Study – Australia Country Study
Jellyfish Unit Study – 107 pages includes bible, science, reading, history, geography, spelling, vocabulary, videos and much more.
Sample Pages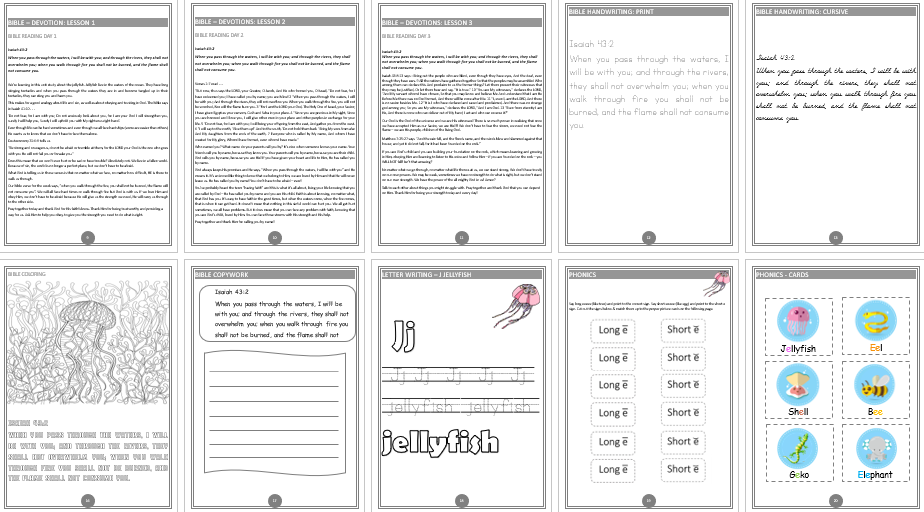 The whole family will enjoy learning and exploring together. Included in each unit study is a one week lesson plan suggestion. You may want to stretch out the activities over 3-4 weeks if you're using other curriculum. These unit studies are designed to be flexible and to suit the needs of various ages within the family. There is something for everyone included.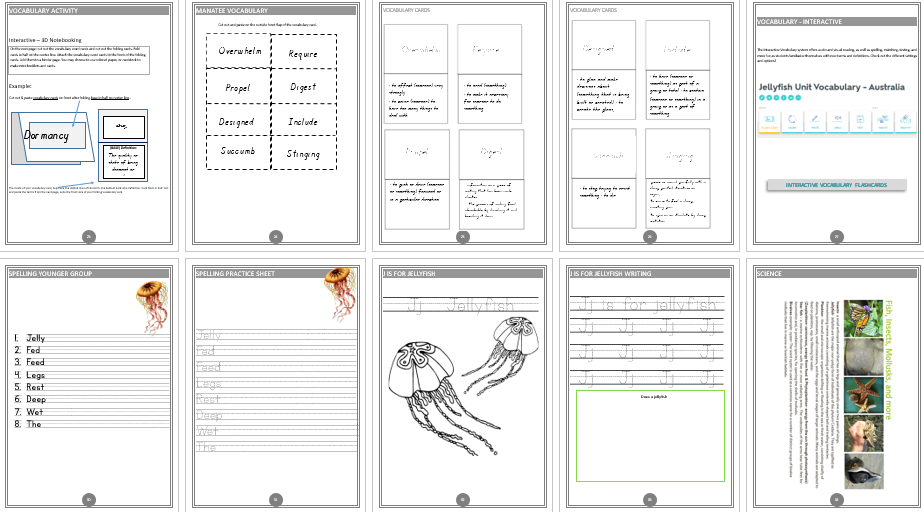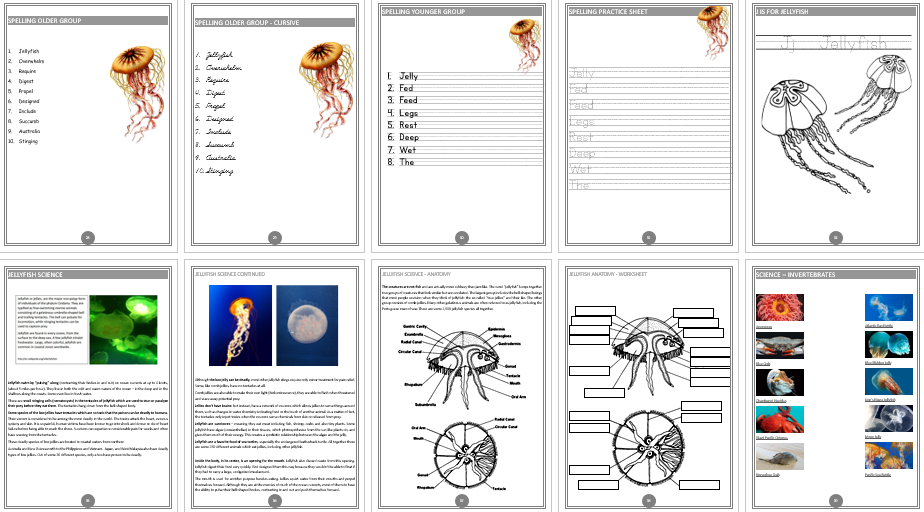 Separate spelling lists and interactive vocabulary along with lapbooking, binder building, or poster creation for students to share what they've learned make this hands-on learning educational experience great for all ages.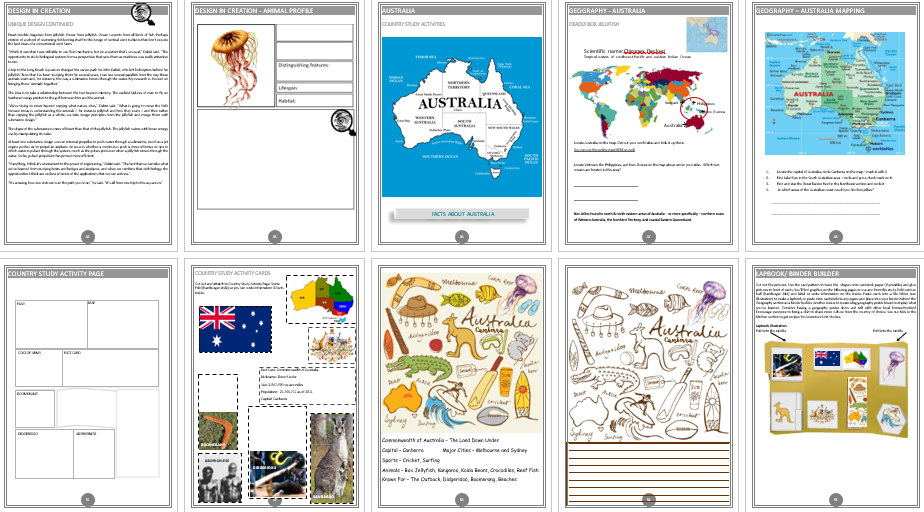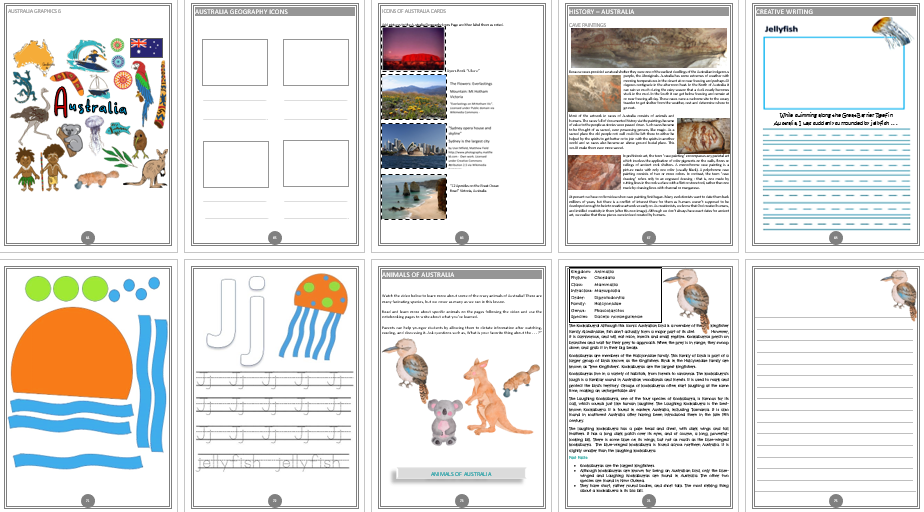 Additionally, little ones will be entertained with simple jellyfish crafts. Older students have plenty of opportunity to dig in deeper for a rich study. Make your own didgeridoo and create a jellyfish in a bottle. Paper crafts for little ones, and lapbooking exercises for elementary and up are included in the Jellyfish Unit Study.
Learn about many of Australia's animals with interactive videos and notebooking with mini-units.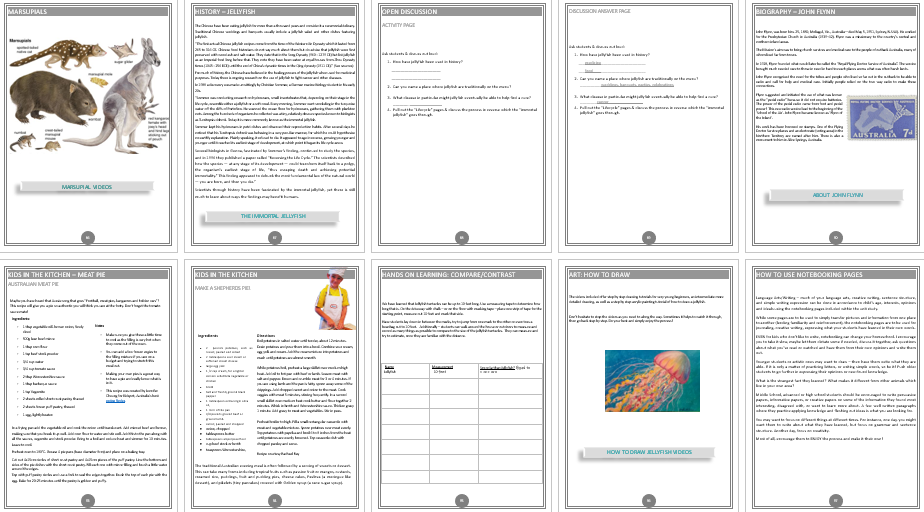 Teen pages and project ideas include historical biographies, the Jin dynasty, and Power Point presentation development and/or video creation about the Immortal Jellyfish.
Additional features include
Bible and Handwriting – Is. 43: 2 – on trusting the Lord.
Science – Jellyfish history, science and anatomy and uses.
Geography – Mapping,  Australia country study.
2 Spelling lists for older and younger students alike.
History – Australia's rich cultural history, cave paintings of the Aboriginal people & more.
Kids in the Kitchen – Australian traditional food/ recipe
Language Arts – phonics, vocabulary, creative writing and more. Biography John Flynn – missionary.
Reading – Woven throughout the unit study – includes optional book list
Art Crafts and Activities – Coloring pages, drawing lessons, word games, worksheets, notebooking pages, activities.
Teen Page and Activities – Power -point, videos, research paper and other ideas for further study.
Cross lateral learning – Projects and activities to help students with dyslexia and all different types of learners understand and retain materials.
Free pages to begin or add to a creative binder where all your studies can be kept for review or as a portfolio of your homeschool work!
Hands on Learning – Lapbooking, binder builder pages, and other resources for research papers and/or sharing a project on Australia. Additional project ideas such as making a boomerang, jellyfish in a jar, taking measurements around the house to compare and contrast, and more.
Engaging – interactive curriculum for the family!
Teach your children to recognize the fingerprints of their Creator with Adventures Interactive Unit Studies.
There is something for everyone in this 107 page unit study!