Description
Adventures Interactive Unit Studies
Each unit study, including the Alligator Unit Study, includes a state or country study and focuses on an animal. Each includes a recipe, teen projects, and is suitable for all ages. Designed for the whole family to study together!
Teach the family together! Ages Preschool — Middle & High School
Alligator Unit Study – Louisiana
Bible Study – Courage
Language Arts – Wordsworth poem, vocabulary, John James Audubon biography (Audubon based in Louisiana) and more
Geography – Louisiana state study, habitat of alligators
History – New Orleans, Louisiana, Alligators in history & Audubon study
Science – Alligators, design in Creation
Reading – woven throughout the unit as well as optional book list
Teen activities – Powerpoint, videos, research paper and project to discover how colleges put scientific studies together.
Cross lateral learning – Projects and activities to help students with dyslexia and all different types of learners understand and retain materials.
Kids in the Kitchen – other hands on learning, traditional Louisiana cooking.
Bonus material – loads of interactive materials and projects included as well as a full Audubon study. Did you know the National Audubon Center is located in New Orleans?
Hands on Learning – build a solar oven, id game for mammals – reptiles – amphibians – birds – insects – fish, design an ad, clay project, and more!
Unit Study Details
92 pages with tons more built-in, interactive material to explore. Suggested lesson plans to use in a week, or in a month! Everything is built right in. All you need is a computer to read the lessons and interactive materials, and a printer for consumable pages. Recommended book list included, but not required.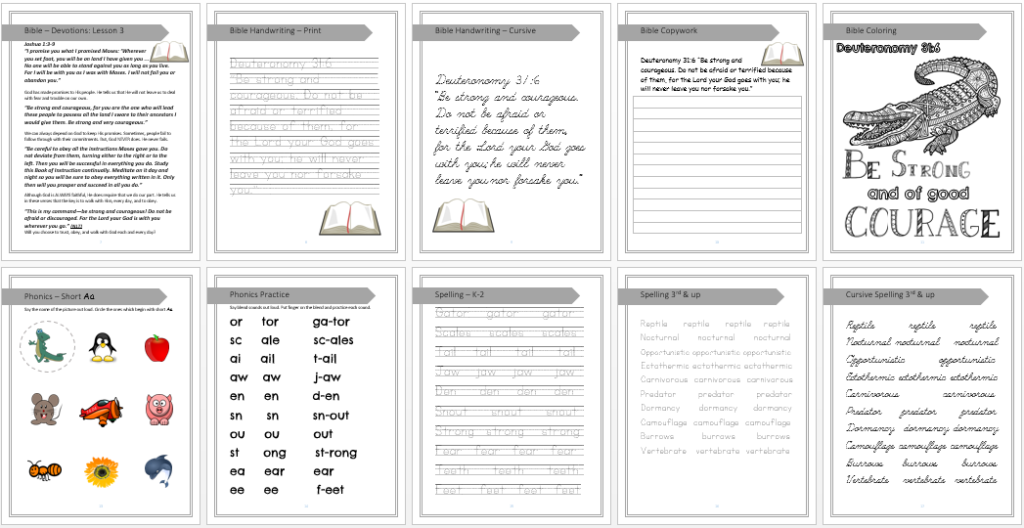 Bible and Handwriting – Spelling and Phonics
Learn about courage from devotions, bible verse memory work, cursive and print handwriting practice are all woven together in consumable pages you can print again and again. Phonics for little ones and spelling lists for both younger and older groups also included.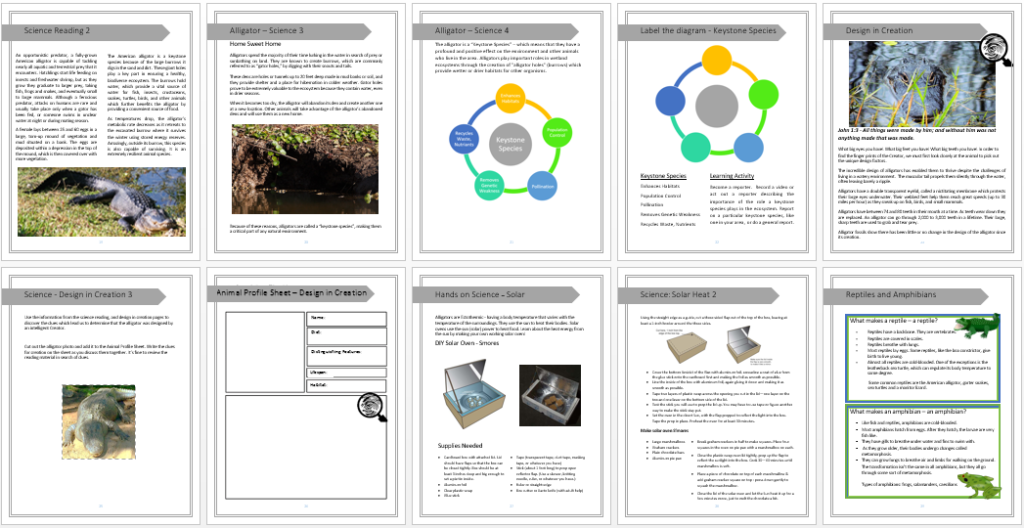 Family Fun Science and Teen Projects
Compare and contrast reptiles and amphibians. Build your own solar oven to make smores, and learn about the importance of a keystone species – like the alligator.
Also included – brand new Teen Study Ideas page with loads of suggestions for projects related to the lessons. These projects are creative and needed for higher learning – for both middle and high school students. A sample teen study idea is for them to write a persuasive paper on keystone species, shoot a video on the topic and more. Additional materials are provided to help students learn to write biographies and research papers. Getting ready for graduation and college doesn't have to be boring!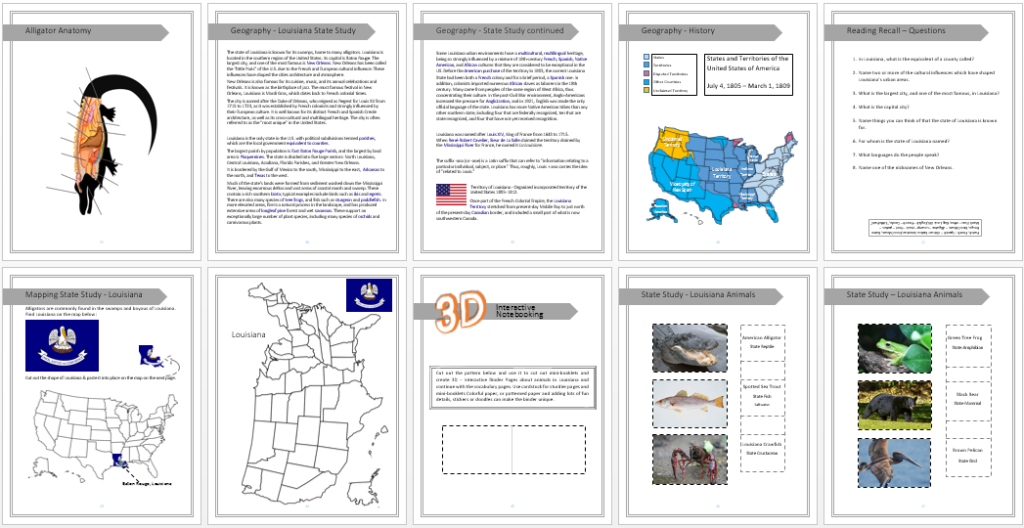 There is a lot to learn about Louisiana, a popular home of the alligator species. The rich culture and history is explored in this fun unit study. Cook the food with simple recipe ideas, while discussing what students learned that day with our Kids in the Kitchen section. It's a great way to reinforce the lessons of the day – while talking about which cultures influenced the food of the area.
Comments from Parents
"Thank you! My kids are so excited. First, they went straight out to the yard and started exploring. Second, they are gathering all sorts of scientific data to learn about." ~ Jennifer S. 

"Immediately, he pulled everything out and started reading the material. Prior to finding your Adventure products, he'd been so discouraged with school! ~ Barbara P. 
The Adventures unit studies do not include math. They are designed to be used daily for a week, or once a week – for a month. Each unit study has materials for multiple ages so you can teach the family together.
92 Page Study!