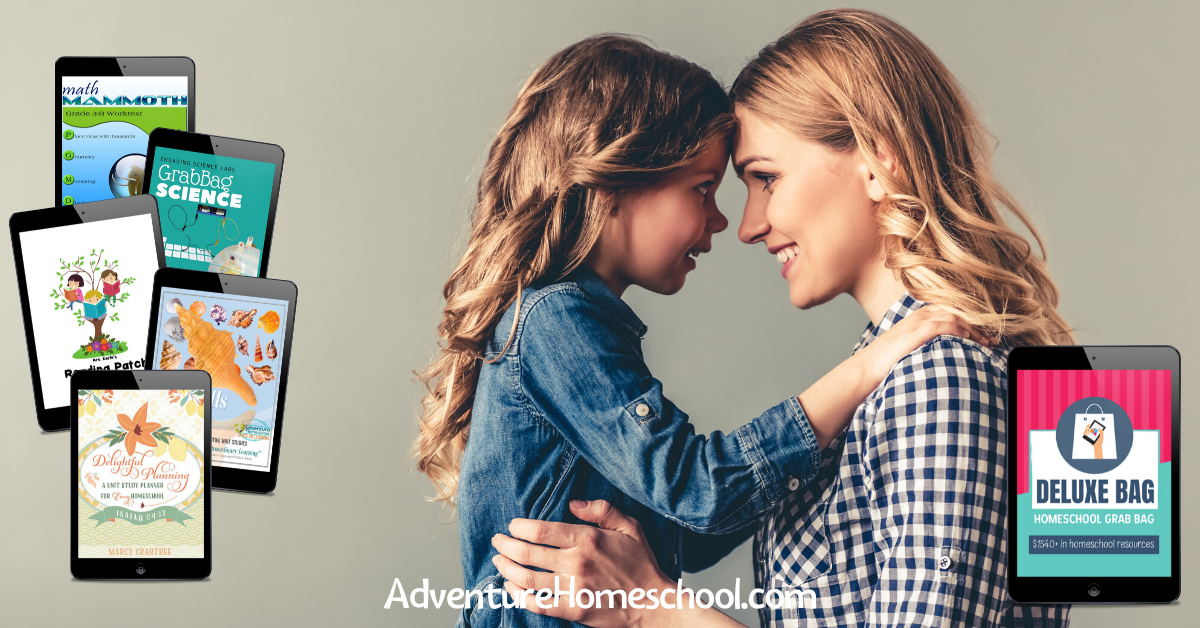 I'm so excited to share our Huge Curriculum Sale from Homeschool Grab Bag with you!
Huge Curriculum Sale – What is it?
What is it, you ask? Well, it is an amazing collection of digital homeschool curriculum from some of the BEST in the Business (including Adventure Homeschool – which I'm over the moon about) – For a few days, you can grab up over $1,500 in curriculum in the Deluxe Bag for LESS THAN $40.00. Yes! Really! Additionally, you can also choose the smaller Super Bag with 50 products for only $24.95.
 70+ Products

 50+ Contributors

 97% Off Retail

Who is it for?
These incredible products are for all ages. There's something for everyone! It's also for:
New Homeschoolers
Old Pros
Anyone Who Wants a Variety of Learning Tools
Anyone Who Is Interested in Creative Learning
K-4th
5th-8th
9th-12th

Name Dropping
We're sharing some of the finest quality products, and you won't get this collection any other time. It's unique to THIS SALE! Just a FEW of the companies involved include:
Math Mammoth
Jen Merckling
Orison Orchards
Engaging Science Labs
Nature Explorers
Captivating Compass
Hip Homeschool Moms
Write Bonnie Rose
Skill Trek
Flip Flop Spanish
Maestro Classics
Only Passionate Curiosity
Bible Baton
Proverbial Homemaker
Future Flying Saucers
GrapeVine Studies
Kid Minds – Nature Detectives
Techie Homeschool Mom
A Journey Through Learning Lapbooks
Mrs. Karle's Reading Patch ($99 VALUE)
Brookdale House
Raising Real Men
How to Homeschool My Child
Ben and Me
Seriously, that is just the beginning! You can see a FULL LIST of companies in each Grab Bag HERE.  Don't miss out on this fantastic opportunity to explore a terrific collection of homeschool curriculum options. After 16 years of homeschooling, I'm still at it myself, and it is serving our family well. I hope you enjoy your adventure as much as we have so far!