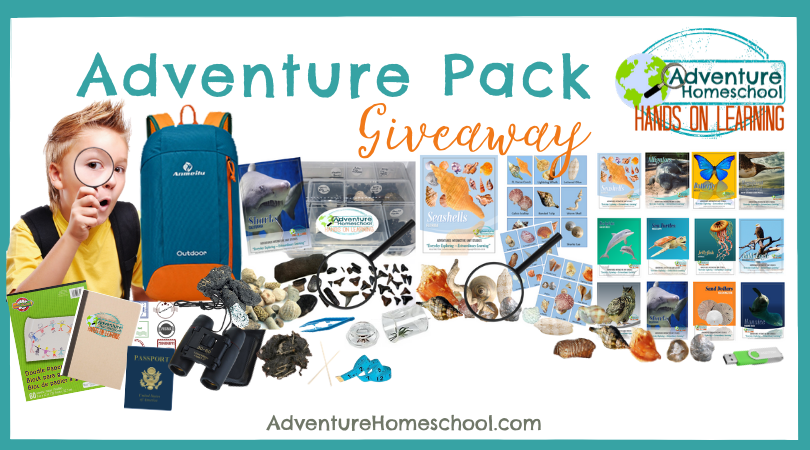 Welcome to the Adventure Pack Giveaway! I'm hearing from a lot of brand new homeschoolers this year (no surprise as the world struggles to deal with Covid19). It's an exciting journey, this homeschool life, and we want to start one homeschool family off with a free Adventure Pack to make learning fun and effective.
The Adventure Homeschool Unit Studies include bible, handwriting, language arts, social studies, spelling & vocabulary, science, geography, history and critical thinking  for all ages in the family. The format is such (and instructions) that you can teach the whole family together, saving on time and money. Not only that, but students retain what they are learning. 
While it does not follow common core standards, this style of teaching and learning reaches students with various learning styles. Get them excited about learning, help them discover the world around them, and teach them to think creatively. *Teen pages included with additional projects and ideas. 
This is a quick giveaway – ending on Monday, July 20.

Adventure Pack Giveaway Includes:
The Adventure Pack is full of tools and adventure gear to help your students get invested in their own learning.
Backpack – value $12.99

Binoculars – value $25.00

Magnifying Glass – value $5.00

12 Unit Studies – value $9.99 each (total $119.88)

Science Journal – value $5.00

Art Pad – value $4.00

Fossil & Sharks Teeth Kit – value $54.99

Seashell Kit – value $25.00

Owl Pellet Kit – value $28.00

Play Passport – value $4.99

Specimen Jar – value $3.99

Maps & More!
Moms and kids alike LOVE the Adventure Pack because it is full of engaging content that ultimately teaches students that learning IS FUN! Use the unit studies in any way that works best for you, enjoy as the whole family to learns together.
---
Enter using ONE Option, OR Use them ALL for extra points! You'll be contacted by email about the winner, and may unsubscribe with the click of a button. I do hope you'll stick around for tips and homeschool information.
---
HUGE CURRICULUM SALE
Over $1,500 in curriculum for LESS than $40!  GO HERE to see the Homeschool Grabbag Options and SAVE BIG!