Disclosure: We use affiliate links.
Sharks Unit Study
Preschool – Teen
Updated 2018
Sharks Unit Study – This brand new Adventures Interactive Sharks Unit Study,  is full of hands on learning and creative fun!
In this Sharks Unit, you will have the option to create your own board book, try a chalk art sharks drawing. You can do an experiment or two on buoyancy, do a state study on California. You'll create a timeline about the Gold Rush and learn about the Transcontinental Railroad. Online fact cards include fun and wacky information about sharks and much more! Enjoy interactive features, a suggested reading list, and additional project or field trip ideas.
ON SALE Today!
Learn why we call sharks "living fossils" and how they point to Intelligent Design by the Creator! Do an experiment on buoyancy and other cool science. 
Sample Pages
Quotes From Our Customers
My favorite parts were the Interactive Vocabulary Flashcards, which were really fun, and learning about Pocahontas and of course, dissecting the owl pellet!" G. (homeschool kiddo about the Owl Study and kit) 

Being set up for many age and ability levels, we were able to use the unit in a way that reached our guy (with dyslexia and autism) in a positive and exciting way. We went through the unit with no struggles, just learning fun! I can't tell you how much that means to us! He even took the spelling test multiple times (his choice!) until he got it perfect. What a great Wildlife Adventure we had! ~ Thank you! Brenda G.
 Like our other unit studies – it includes bible, handwriting, spelling & vocabulary, language arts, reading, science, history and geography. It is designed for teaching the whole family together. This unit is for preschool to high school with projects, art, videos, coloring pages, and links for further research.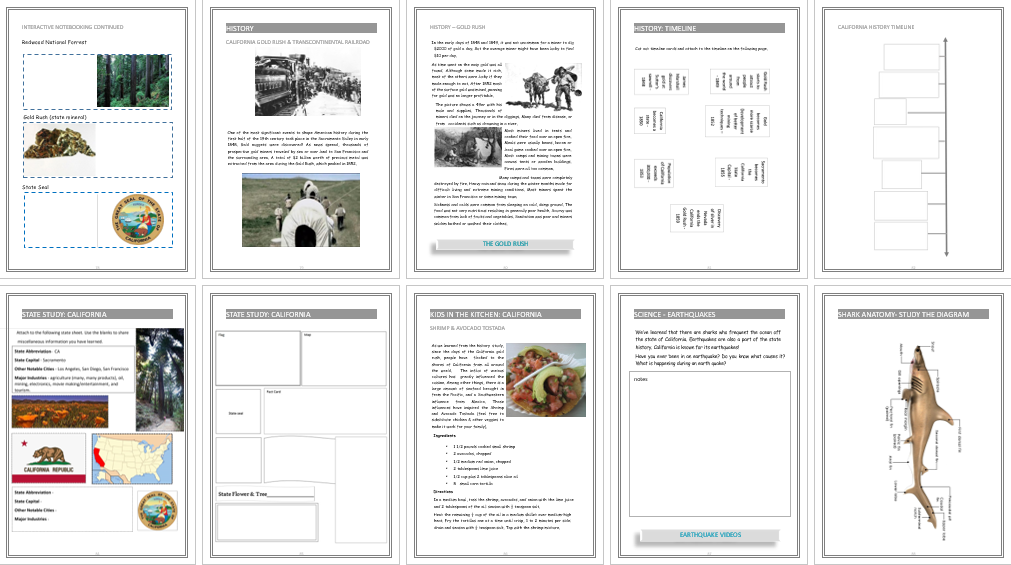 There is something for everyone in this exciting 106 page unit. There are spelling lists for younger and older students alike.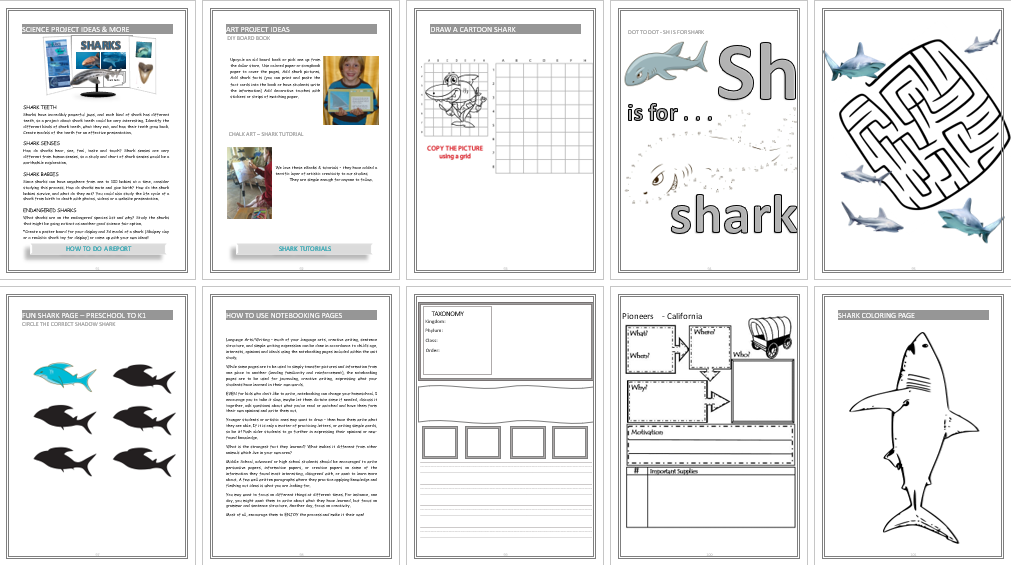 Other details about: Adventures Sharks Unit Study 
Bible Study – Amos, serving others 
Language Arts – Grammar: Nouns, Verbs, Adjectives, Spelling & Vocabulary: younger & advanced interactive lists, 
Geography – California 
History – American Gold Rush, Railroad to the Pacific Coast
Science – Sharks & buoyancy
Reading – woven throughout the unit as well as optional library list 
Teen Pages -additional projects and research for teens and advanced students.  
Hands on learning – Kids in the Kitchen feature with recipes, Creative poster ideas, lapbooking or binder builder pages, Art, Crafts and much more. 
Explore our products or add a unit study to your cart: 
Regular Price $9.99 Sale $8.99 
Book Suggestions
---
ON SALE Today!
Inspire learning with hands on activities and tools kids will love. Effective teaching means students retain what they learn. The combination of our creative unit studies with exciting tools provides you with the equipment you need to get the job done right. 
Adventure Homeschool
Everyday Exploring – Extraordinary Learning
Go HERE to Join
our free Facebook group to get access to the best homeschool deals, tips, and ideas to make this the best year ever!  
Disclosure: We use affiliate links. If you make a purchase with our links, we may receive a small profit, at no additional cost to you. Thank you for your loyalty. Your support helps us maintain the site.