Disclosure: We use affiliate links.

Adventures Unit Studies Bundle 2
Updated 2018 – Preschool to Teen Studies
Adventures Unit Studies bundle 2 includes 4 complete unit studies – an entire month of homeschool study or 4 months of weekly studies packed full of hands on learning. 
Bundle 2 – Sand Dollars, Seashells, Sharks, Sea Turtles
Save big with purchase of a month's worth of unit studies! Each lesson will provide bible, history, science, geography, spelling, vocabulary & more. Use our interactive cards to learn weird and fun facts about SHARKS!  Make a "sea-squid" (a.k.a – hot dog) lunch like a Sea Turtle while you compare and contrast the differences between reptiles and amphibians . . . . .
What do sand dollars have in common with Lewis and Clark?
Find out in this fun unit study which takes you on a journey across the country. Includes a fun hands on learning – clay diorama project. New features include a history profile on Sacajawea and Design in Creation – Animal Profile where students learn to recognize the fingerprints of the Creator.
Explore geography while learning about the science of sand dollars and the history behind the Corps of Discovery.  
Sample Pages
Have you ever heard of the "Shell People?"
This seashells unit study is about much more than beautiful shells. Learn the history of shells and of the ancient Shell People. The Calusa Indians were the people who roamed the land in Southwest Florida, long before it was settled.  Learn about the Spanish landing in Florida, the shells which decorate it's beautiful beaches, State symbols and important information.
Discover the differences between vertebrates, and invertebrates. Animal Profile pages and Design in Creation pages show us the fingerprints of the Creator. 
Preschool – Teen (Updated 2018)
Sharks Unit Study – This brand new Adventures Interactive Sharks Unit Study,  is full of hands on learning and creative fun!
In this Sharks Unit, you will have the option to create your own board book, try a chalk art sharks drawing. You can do an experiment or two on buoyancy, do a state study on California. You'll create a timeline about the Gold Rush and learn about the Transcontinental Railroad. Online fact cards include fun and wacky information about sharks and much more! Enjoy interactive features, a suggested reading list, and additional project or field trip ideas.
Learn why we call sharks "living fossils" and how they point to Intelligent Design by the Creator! Do an experiment on buoyancy and other cool science. 
Sample Pages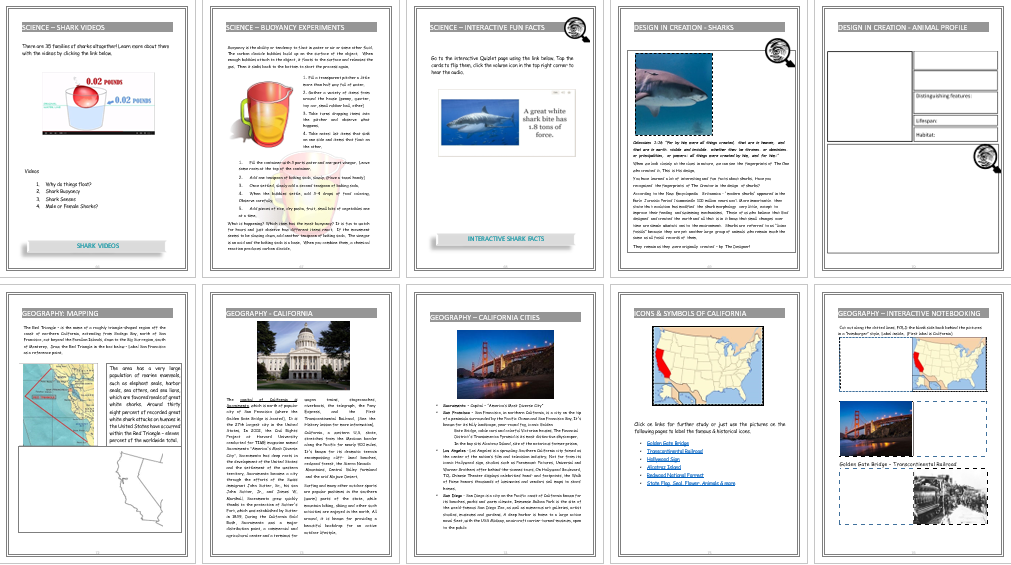 Updated 2018 – Ages Preschool to Teens
The Sea Turtle unit study includes all you need to know about sea turtles for all ages in the family. The unit study includes bible, spelling (different levels & ages), vocabulary, science, history & geography.
Your sea turtle studies will take you to Mississippi where you will learn about both the geography and history of the state. Word search, sea turtle art, creative writing and phonics are also built into the study.  It includes a profile study on Ulysses S. Grant, videos and additional hands on learning projects.
Sample Pages
Learn about sea turtle life-cycles, and how to keep nesting turtles safe. From Civil War history at Vicksburg, Mississippi to sea turtle migration – this study will get their attention and keep it! 
Ignite a desire to learn & enjoy exploring God's Creation – together!
Save BIG with Purchase of the Bundle
Regular Price $39.96 – Now only $25
Go HERE to Join
our free Facebook group to get access to the best homeschool deals, tips, and ideas to make this the best year ever!  
Disclosure: We use affiliate links. If you make a purchase with our links, we may receive a small profit, at no additional cost to you. Thank you for your loyalty. Your support helps us maintain the site.