Disclosure: We use affiliate links.

Seashell Unit Study
Updated 2018 – Preschool to Teen Studies
Have you ever heard of the "Shell People?"
This seashells unit study is about much more than beautiful shells. Learn the history of shells and of the ancient Shell People. The Calusa Indians were the people who roamed the land in Southwest Florida, long before it was settled.  Learn about the Spanish landing in Florida, the shells which decorate it's beautiful beaches, State symbols and important information.
Discover the differences between vertebrates, and invertebrates. Animal Profile pages and Design in Creation pages show us the fingerprints of the Creator. 
Seashell matching game, recipe and State Study of Florida with hands on learning projects make learning fun and effective. 
110 pages total – Bible (print & cursive), Science, History, Geography, Spelling, Vocabulary, Memory game & more!
Sample Pages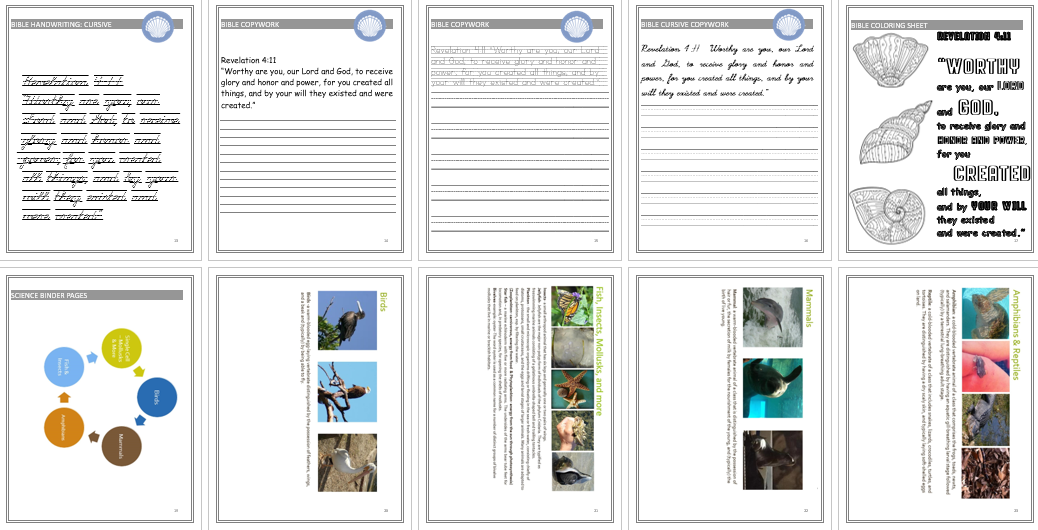 Inspire a life-long desire to learn in your children!  Adventures Interactive Unit Studies will bring everyday exploring into your home and take you on a journey towards a lifestyle of learning together.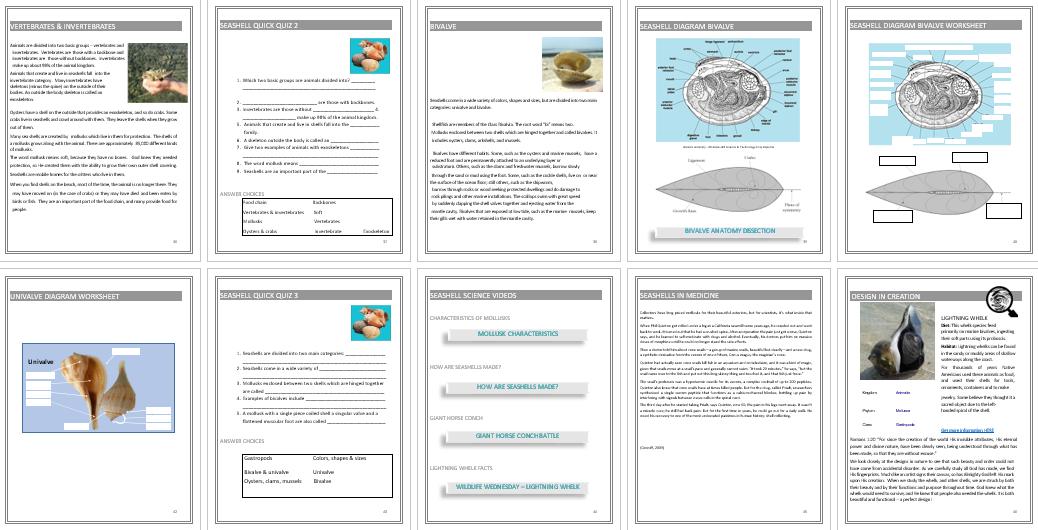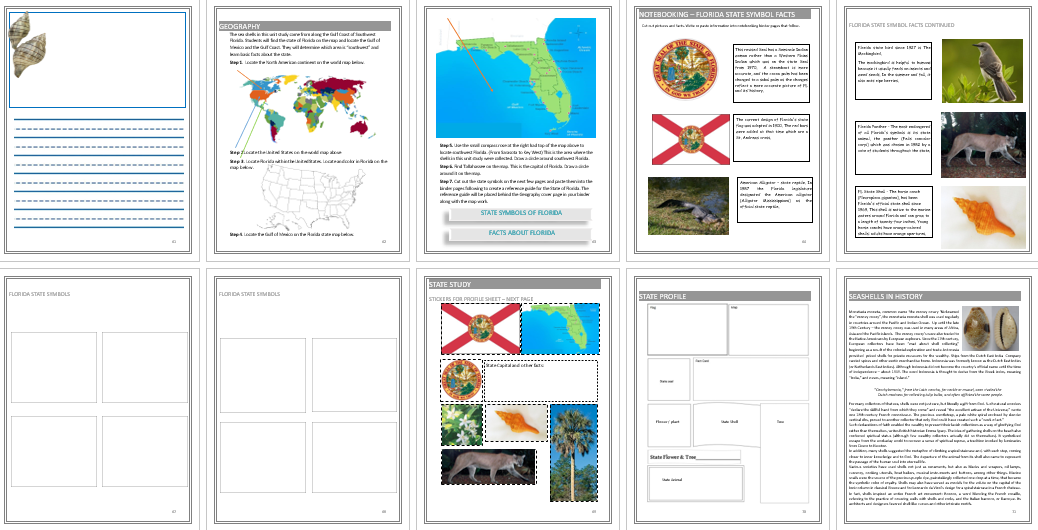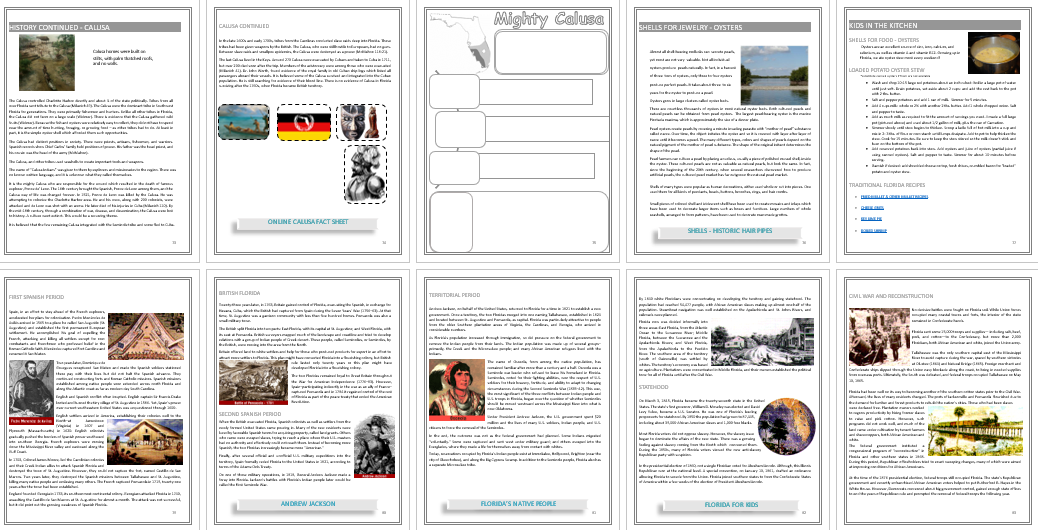 "By and large, I've been a teacher for over 30 years, and THIS … is what real learning is all about! I'm so happy to have found this for my granddaughter." ~ Mrs. Thelma R. 

"Thank you! My kids are so excited. First, they went straight out to the yard and started exploring. Second, they are gathering all sorts of scientific data to learn about." ~ Jennifer S. 
"Immediately, he pulled everything out and started reading the material. Prior to finding your Adventure products, he'd been so discouraged with school!" ~ Barbara P. 
On Sale Today!
Scope and Sequence
Bible Study – God is Worthy – Rev. 4:11
Language Arts – Handwriting: print, cursive – Phonics: Letter S, blend Sh – Spelling & Vocabulary (younger & advanced)  –
Geography – Florida State Study – wetlands and the Everglades "River of Grass"
History – History of Florida, Seashells in History, Calusa Indians of Florida "The Shell People", Ponce de Leon, European Colonization, Real Pirates of Florida, Spanish period, British in Florida, Andrew Jackson, Statehood, Civil War, The Original Cattle State "Florida Crackers"
Science – Seashells, Design in Creation – Bivalve, Univalve – Vertebrate, Invertebrate – Conch Life Cycle
Reading – woven throughout the unit as well as optional book list
Teen activities – Powerpoint, videos, research paper and project to discover how colleges put scientific studies together.
Hands on learning – Projects and activities to help students with dyslexia and all different types of learners understand and retain materials. Kids in the Kitchen – Florida food (cheese grits, oyster stew & more)
Bonus material – loads of interactive materials and projects included. Did you know Florida is the original Cattle State? Cowboys of Florida were the first to round up wild cattle and drive them from one end of the state to the other!
Book Suggestions
Adventure Homeschool
Everyday Exploring – Extraordinary Learning 
Check out the exciting new Adventure Packs with Hands on Learning tools to enhance your family homeschool! Get kids excited about learning with tools they love to use to investigate the world around them.
Go HERE to Join
our free Facebook group to get access to the best homeschool deals, tips, and ideas to make this the best year ever!  
Disclosure: We use affiliate links. If you make a purchase with our links, we may receive a small profit, at no additional cost to you. Thank you for your loyalty. Your support helps us maintain the site.