Disclosure: We use affiliate links.

Sea Turtle Unit Study
Mississippi State Study
Updated 2018 – Ages Preschool to Teens
The Sea Turtle unit study is 89 pages and includes all you need to know about sea turtles for all ages in the family. The unit study includes bible, spelling (different levels & ages), vocabulary, science, history & geography.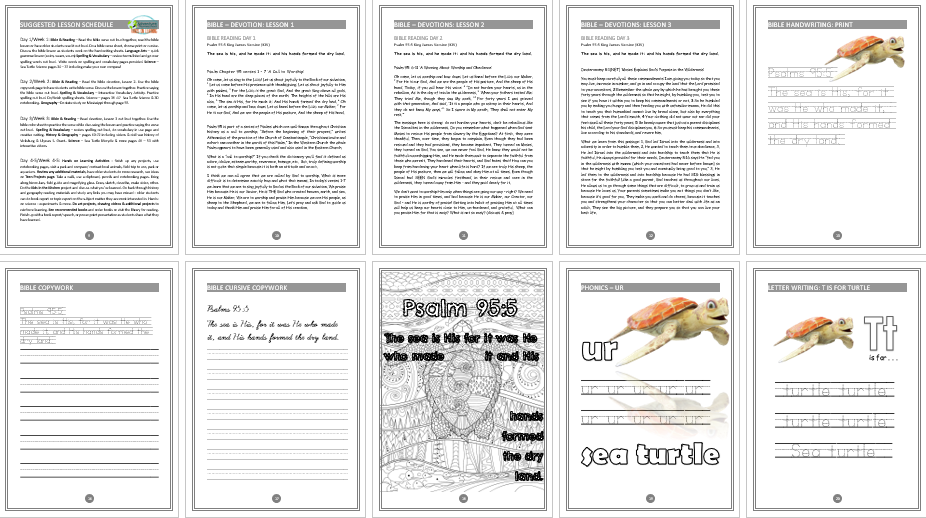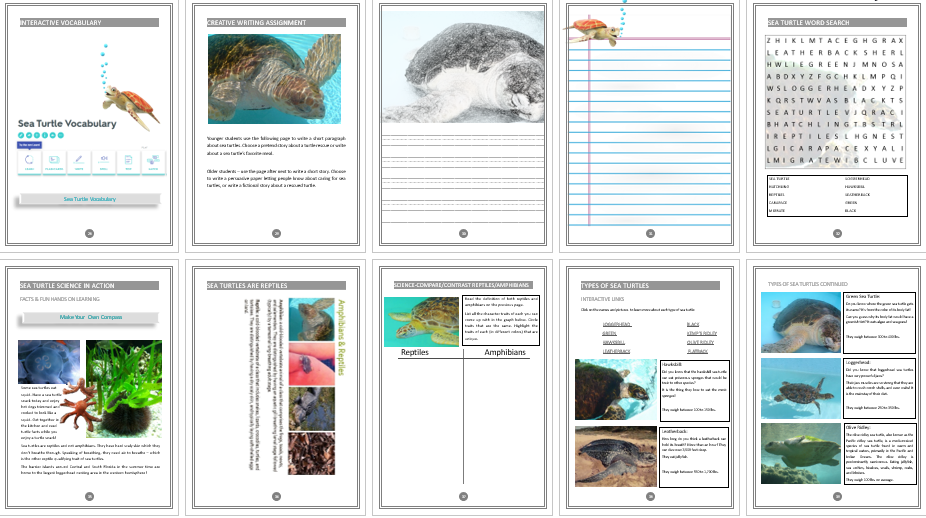 Your sea turtle studies will take you to Mississippi where you will learn about both the geography and history of the state. Word search, sea turtle art, creative writing and phonics are also built into the study.  It includes a profile study on Ulysses S. Grant, videos and additional hands on learning projects.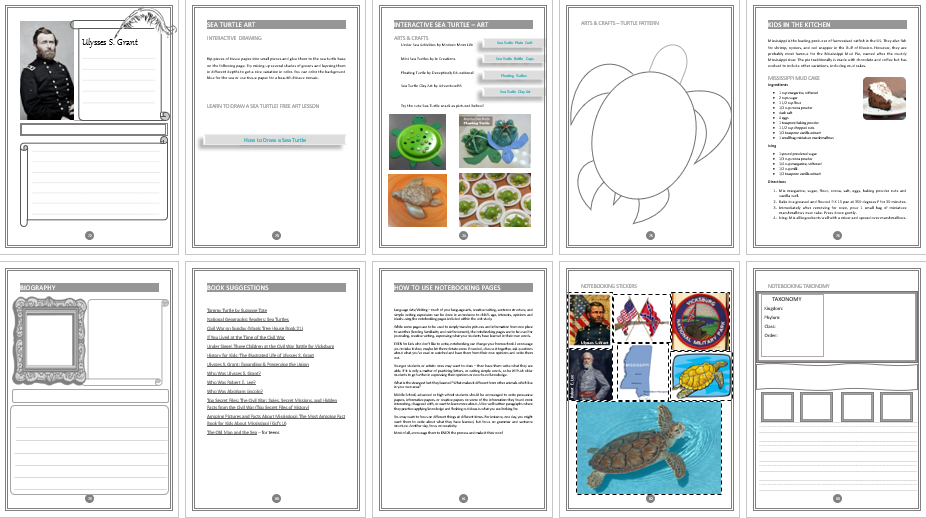 Get your students excited about learning. Use hands on learning project ideas from our Sea Turtles unit study to inspire your kids and begin an exciting journey of everyday exploring in your family homeschool.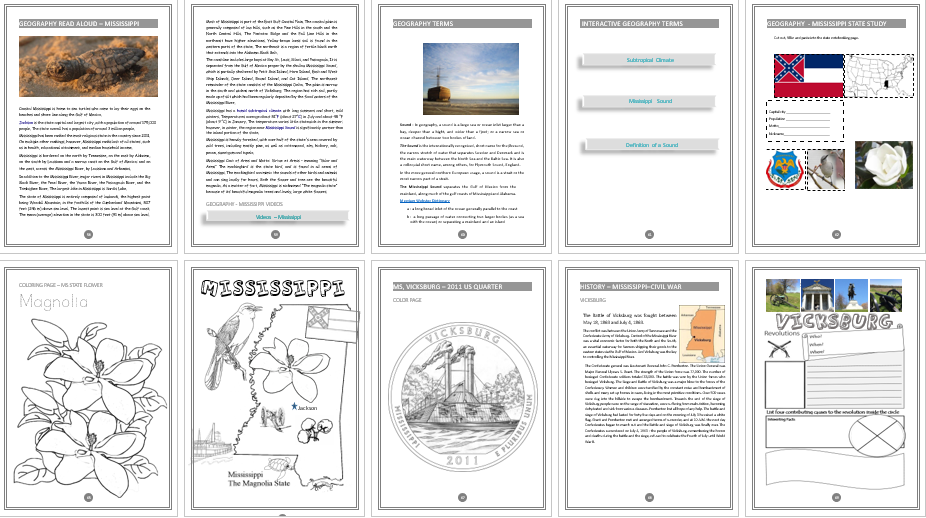 There is something for all ages. Keep youngest students happy and busy while older students dig in for a deeper study. There are always additional links for further research. Use the study for the suggested three day week, or use extra materials for a full week. Those using other curriculum may want to use these studies as enrichment activities over the course of a month or so.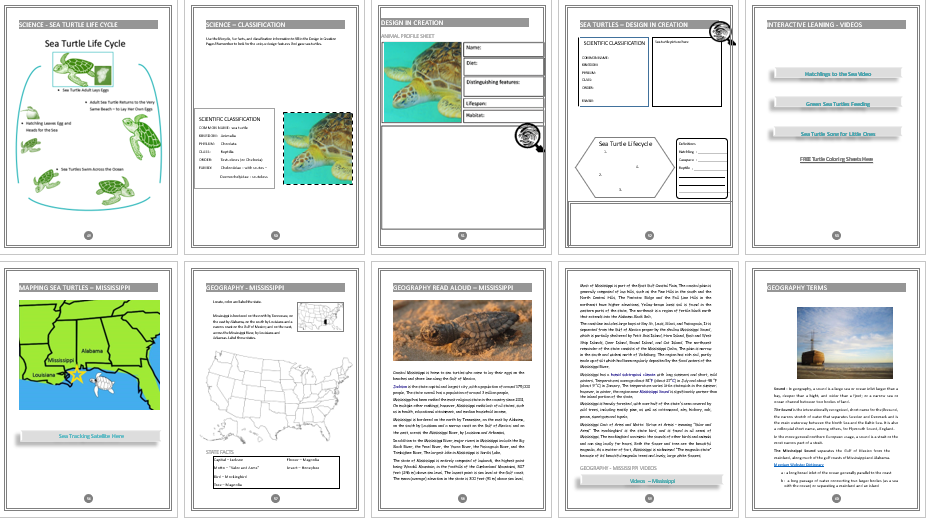 Learn about sea turtle life-cycles, and how to keep nesting turtles safe. From Civil War history at Vicksburg, Mississippi to sea turtle migration – this study will get their attention and keep it! 
On SALE Today! 
Scope and Sequence
Bible Study – Worship the Creator, all are His – Psalm 95:5
Language Arts – Handwriting: print, cursive – Phonics: Letter T, blend ur – Spelling & Vocabulary (younger & advanced)  – Grammar: swim, swam, swum – Creative writing
Geography – Ocean migration, Mississippi State Study, sea turtle nesting area, Mississippi Sound & geography terms
History – History of Mississippi, Battle of Vicksburg in Civil War, General Grant at Vicksburg
Science – Sea Turtle navigation, Design in Creation, make your own compass, Reptiles & Amphibians, Sea Turtle identification, life cycle
Reading – woven throughout the unit as well as optional book list
Teen activities – Powerpoint, videos, research paper and project options.
Hands on learning – Projects and activities to help students with dyslexia and all different types of learners understand and retain materials. Kids in the Kitchen – Mississippi food, lapbooking or binder builder, make your own compass & more.
Bonus material – loads of interactive materials and projects included. Arts and craft ideas. Learn to draw sea turtles.
Book Suggestions
Go HERE to Join
our free Facebook group to get access to the best homeschool deals, tips, and ideas to make this the best year ever!  
Disclosure: We use affiliate links. If you make a purchase with our links, we may receive a small profit, at no additional cost to you. Thank you for your loyalty. Your support helps us maintain the site.