Disclosure: We use affiliate links.
Manatee Unit Study – Puerto Rico
Is it a manatee or a dugong?
Updated 2018 (Preschool – High School) 
Manatee Unit Study – The study of manatees will lead you through a journey rich in history and folklore. Along with science, you will explore far away lands, do art projects and learn about this gentle sea creature. Did you know that manatees have been mistaken for mermaids in history? Find out when and how these cows of the sea inspired many a tall tale from early explorers. 
Includes a fun interactive study from under the sea! 
Hands on learning, great for dyslexia with activities specially designed for cross-lateral learning. 
Reg $9.99 – SALE $8.99 digital only
96 pages with tons more built-in, interactive material to explore. Suggested lesson plans to use in a week, or in a month! Everything is built right in. All you need is a computer to read the lessons and interactive materials, and a printer for consumable pages. Recommended book list included, but not required.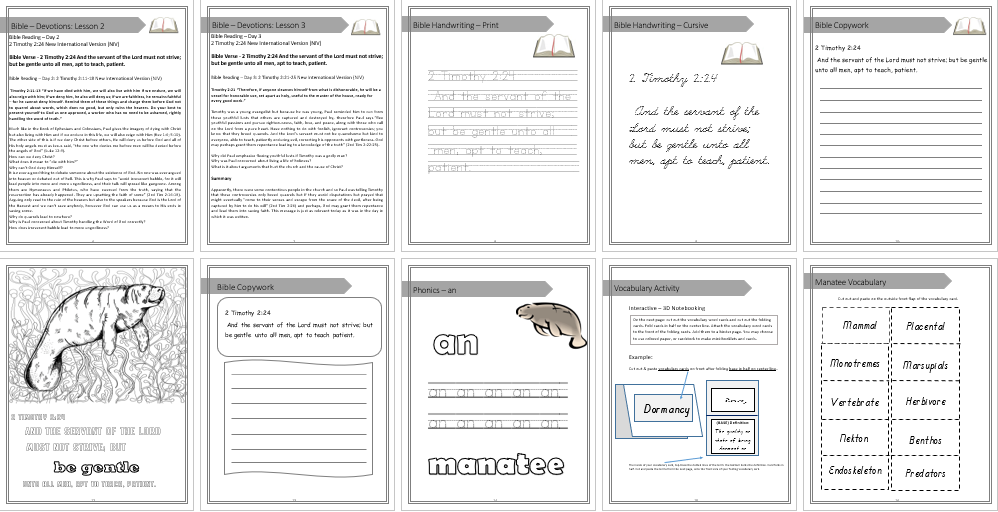 Country study on Puerto Rico includes delicious native recipe the family can prepare together. Learn to draw a manatee, compare and contrast the size of the manatee to items in your home or neighborhood. Students graph results and retain what they learn with these and other hands on learning projects.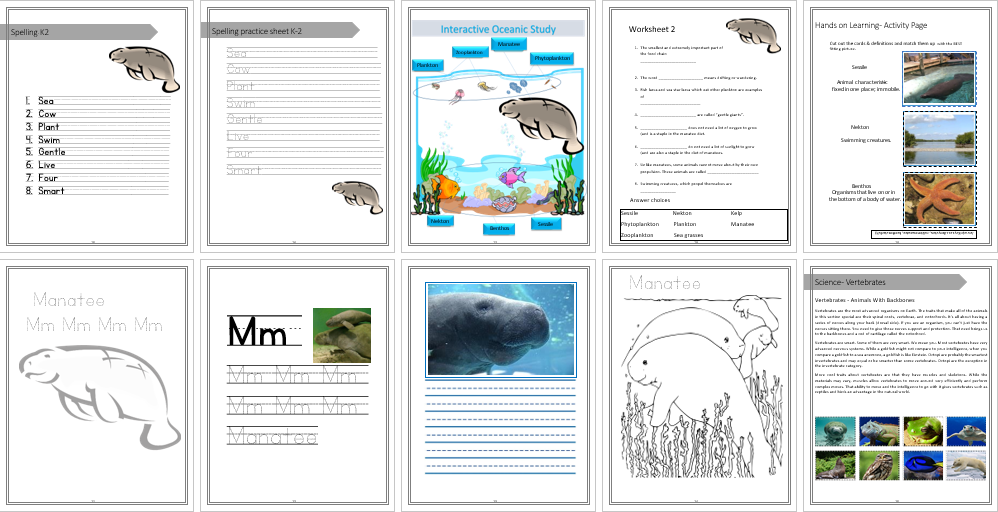 The Design in Creation pages will teach you about the immune system of the manatee. Their special diet and perfectly designed mouth help them eat and point directly to the Creator. Learn how and why as you work your way through this study.
96 Pages – including  Adventures binder and notebooking pages for you to create and record your nature studies. Each unit contains bible, science, history, geography, handwriting, spelling, vocabulary and much more. Enjoy the Everyday Exploring series – Adventures Interactive Unit Studies, as the whole family learns together.
On SALE today!
Bible Study – Gentleness – 2 Timothy 2:24
Language Arts – handwriting: print, cursive, interactive vocabulary & spelling, biography Claude Monet
Geography – Puerto Rico, Caribbean, manatee range worldwide
History – manatee history/ Columbus, history of Puerto Rico and Tiano people
Science – manatee, vertebrates, invertebrates, design in Creation
Reading – woven throughout the unit as well as optional book list
Teen activities – Powerpoint, videos, research paper and projects
Hands on learning – Projects and activities to help students with dyslexia and all different types of learners understand and retain materials. Kids in the Kitchen recipe from Puerto Rico, and more!
Bonus material – loads of interactive materials and projects included as well as Play Passports
Book Suggestions
---
Be sure to check out our exciting new Adventure Packs with Hands on Learning tools to enhance your family homeschool education. 3 options to choose from include 4 Unit Studies with Adventure Pack and 10 Unit Studies with Adventure Pack. 
Go HERE to Join
our free Facebook group to get access to the best homeschool deals, tips, and ideas to make this the best year ever!  
Disclosure: We use affiliate links. If you make a purchase with our links, we may receive a small profit, at no additional cost to you. Thank you for your loyalty. Your support helps us maintain the site.