Disclosure: We use affiliate links.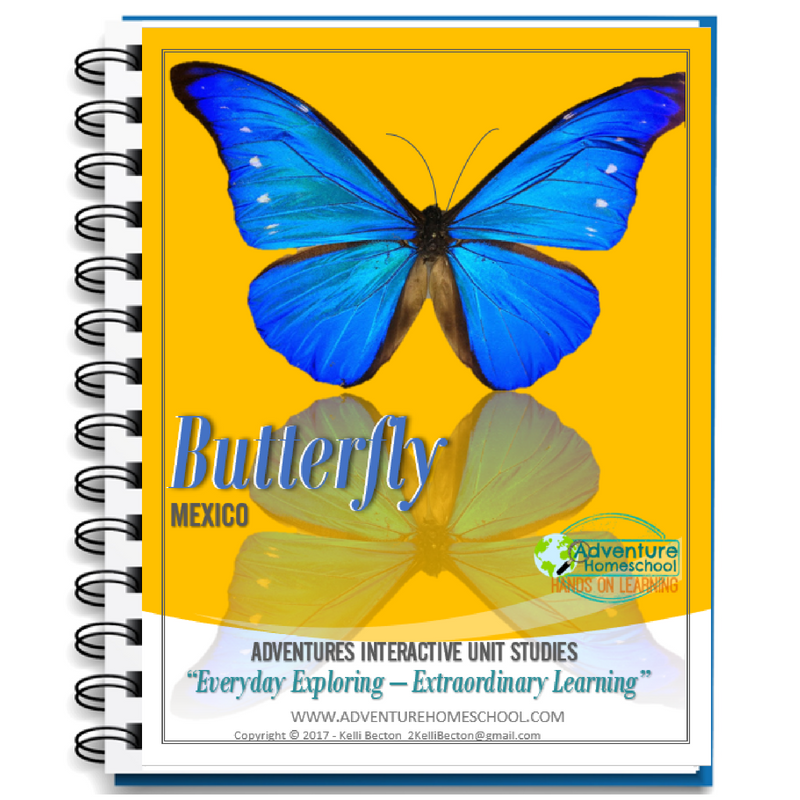 Butterflies Unit Study
All Ages – Preschool through Teen
Newly updated for 2018!
When you explore the Butterflies Unit Study from Wildlife Adventures – you will take an exciting journey to Mexico for the migration of the butterflies. Examine the culture with an interactive slide show.  
The butterflies unit study will have you testing your culinary skills with a Mexican meal. Create Butterfly art and many more hands on learning projects. 
Reg $9.99 SALE $8.99
Now includes new Teen Study page and much more!
The butterflies unit study includes the history and geography of the country, as well as, practicing mapping skills. Free download is included to start your own  Adventures Homeschool Binder with beautiful cover and notebooking pages – perfect to store your work. 
Spelling and vocabulary include both younger and older students. Each unit includes a bible verse for memory work, and daily devotions, handwriting (print & cursive) as well as reading, and art project ideas.
Sample pages 
97 pages total – are included in this information packed, fun filled unit study for the whole family. Much of the additional content in interactive. Use the Butterfly Unit Study for 1 week of study or spread it out over several with other curriculum. Math not included. 
Adventure Homeschool – where everyday learning meets extraordinary learning!
Reg $9.99  SALE $8.99
Book Suggestions
Adventures Unit Studies butterflies – will capture the imagination of your children. Make learning fun with products from our Adventure Homeschool Line. Discover a world of possibilities with our exciting new Hands on Learning – Adventure Packs! 
Go HERE to Join
our free Facebook group to get access to the best homeschool deals, tips, and ideas to make this the best year ever!  
Disclosure: We use affiliate links. If you make a purchase with our links, we may receive a small profit, at no additional cost to you. Thank you for your loyalty. Your support helps us maintain the site.