Disclosure: We use affiliate links.
Creative Education to Get Kids Excited About Learning! 
Adventures Interactive Unit Studies — Hands on Learning Fun
Bible, Print, Cursive, Creative Writing, Critical Thinking, Science, History, Geography & More
Teach the family together! Ages Preschool — Middle & High School. See individual studies for descriptions of each of the interactive unit studies.
Adventures Interactive Unit Studies
Teach the whole family — together.                        
Each of the interactive unit studies highlights a different animal and includes bible, handwriting, science, spelling, vocabulary, language arts, history, geography and more (just add math)!

Additional links for more research, and reading suggestions included.

Hands on Learning projects and activities for art & creative homeschooling.

Save time& money as you study God's creation. Inspire your students; help them develop a lifelong love of learning as they grow closer to the God who created them!

Adventures Interactive Unit Studies — Fun for the whole family.
More Exciting Interactive Unit Studies Coming Soon!
Learn more about out Wildlife Adventures Interactive Unit Studies& Hands on Tools HERE
Quotes from Adventure Homeschool moms and customers …
My goodness! We just received our nature study Adventure Kit and my boys are beyond excited! I even got a 'best mom ever' — Thanks so much!" Happy Homeschool Mom ~ Emily E. 

"By and large, I've been a teacher for over 30 years, and THIS … is what real learning is all about! I'm so happy to have found this for my granddaughter." ~ Mrs. Thelma R. 

"Thank you! My kids are so excited. First, they went straight out to the yard and started exploring. Second, they are gathering all sorts of scientific data to learn about." ~ Jennifer S. 
Immediately, he pulled everything out and started reading the material. Prior to finding your Adventure products, he'd been so discouraged with school! ~ Barbara P. 
---
Adventure Homeschool Products
"Everyday Exploring — Extraordinary Learning"
---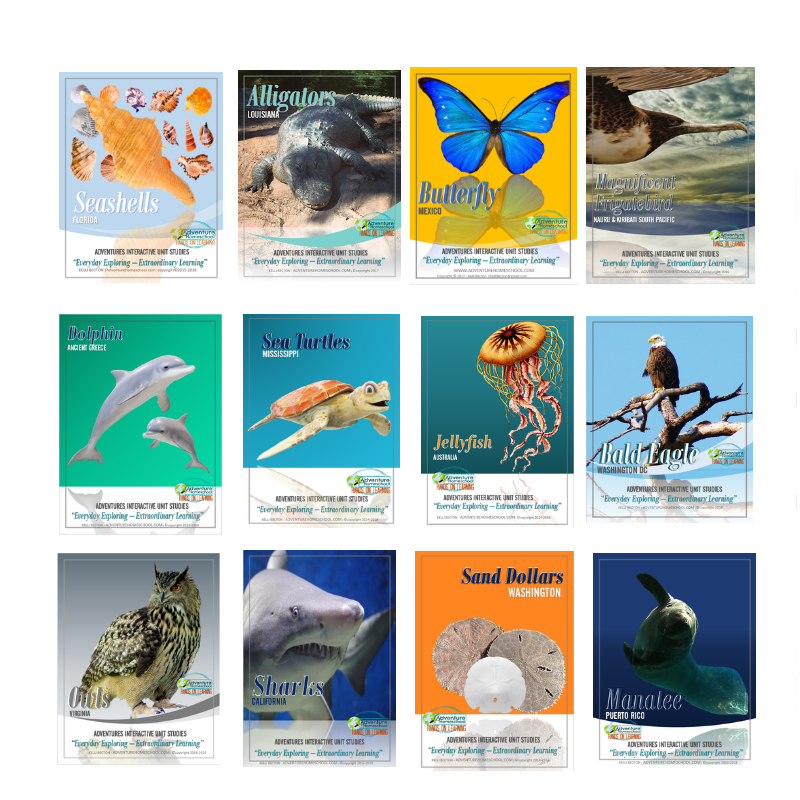 Unit Studies Included with Deluxe Adventure Pack 
Give your children a Biblical worldview and a hands on learning experience and make your family homeschool an adventure they won't soon forget! A total of 12 weekly unit studies over 12 months! Used daily each study lasts about one week for 12 weeks of studies. Choose the right schedule for your family. 
SAVE $102.85 Today
Deluxe Adventure Pack only $149.00 
Free Shipping!
Use Code: SPENCE to save additional $10 at checkout
LIMITED TIME ONLY $139
Ship to US ONLY
---
If you have questions about our interactive unit studies — please contact Kelli Becton 
Go HERE to Join
our free Facebook group to get access to the best homeschool deals, tips, and ideas to make this the best year ever!  
Disclosure: We use affiliate links. If you make a purchase with our links, we may receive a small profit, at no additional cost to you. Thank you for your loyalty. Your support helps us maintain the site.