Disclosure: We use affiliate links.
---
Reading activities for young students don't need to be boring or painful. We've got 10 Reading Activities they will love! Learning to read can be fun and exciting, especially when you include activities that grab your child's interest.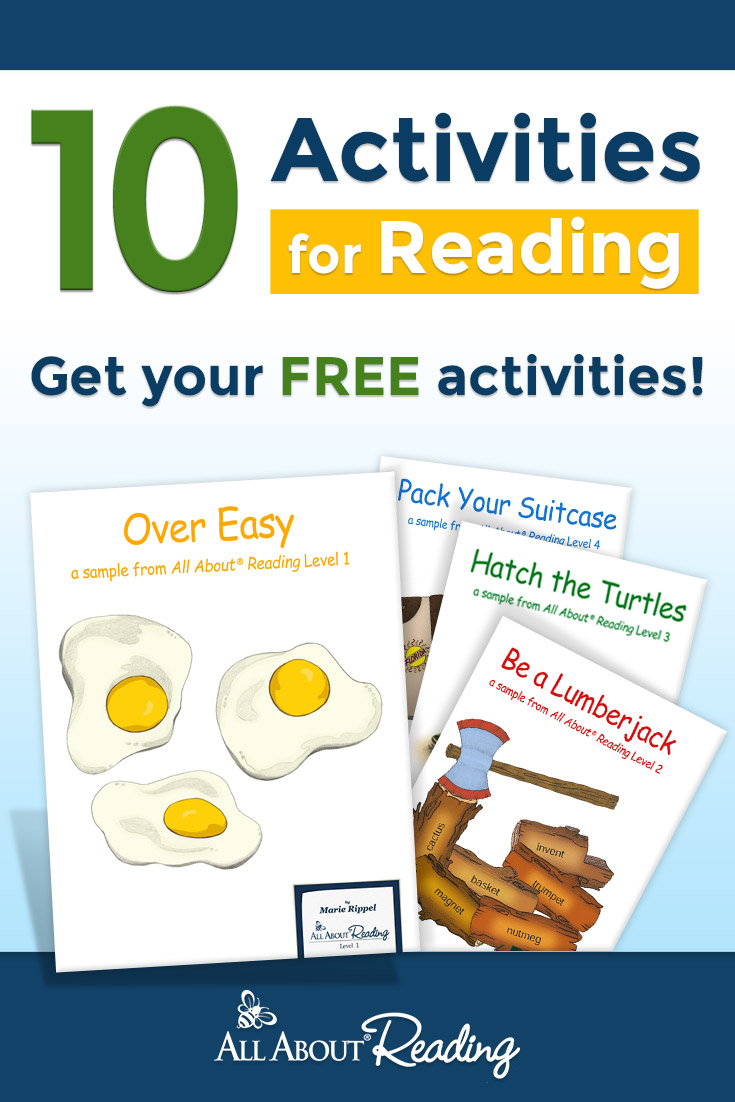 10 Reading Activities for Young Students
If your child dreads reading time and can't seen to get excited about learning to read, it may be time to switch tactics! The last thing we want to do is pressure our kids into thinking that learning is a chore they don't like. Right? We want them to learn to enjoy reading. Fun reading activities, like these, will help.
Here's a little about what is included in this free pack: 
Decode multisyllable words by "chopping" them into syllables—just like a lumberjack!

A hungry anteater to help practice review words.

Pack your suitcase and practice phonograms UI and IE as you travel the world.

A hungry anteater to help practice review words.

A flock of ducks provides the perfect way to practice the sound of CK.

Practice consonant team TH by flipping "eggs" with a spatula!
All About Reading – 10 Reading Activities

All About Reading is our favorite company for teaching students to read. While it works well for any child, it has been especially helpful with my youngest son who struggles with dyslexia. As a matter of fact, I've never seen such a severe case of dyslexia – even while tutoring special needs students. 
Our Story
Even though my son is older than most kids learning to read, we have continued to plug away at it. There are levels with dyslexia, and sadly, his is extreme. Fortunately, because we homeschool, I don't have to worry about someone else's time frame. We can work at his pace. I don't have to hold him back. He continues to grow and learn so much in other areas . . . and little by little – the reading improves! 
A couple of years ago, I developed some worksheets which helped him a great deal – read more about that here, and get your free pack. But, it was after we started using the All About Reading program, that he was finally able to actually sit down – and just read! It's been a huge blessing. While he is still not up to the reading level that the school system would deem for his age – he no longer HATES reading!
I have full confidence that he will continue to improve in great strides like he has over this past year. We have the All About Reading program & resources to thank for that. We will stay the course with each level of this program until he is fluently reading. I LOVE seeing the pride on his face when he reads out loud to us from one of his books! 
The free materials for dyslexia are incredible – you can find them here.  
All About Learning Press also has great resources for auditory processing, and dysgraphia, and a checklist for dyslexia (and more info). I'm never disappointed with freebies or curriculum from AAL. 
---
Beginner Readers
Go HERE to Join
our free Facebook group to get access to the best homeschool deals, tips, and ideas to make this the best year ever!  
Disclosure: We use affiliate links. If you make a purchase with our links, we may receive a small profit, at no additional cost to you. Thank you for your loyalty. Your support helps us maintain the site.