Disclosure: We use affiliate links.

Author Danika Cooley- Interview: When Lightning Struck
Exciting true story of Martin Luther and Reformation Day for young adults and youth of all ages.
"When Lightning Struck! is far more than just an adventure story, of course. It also tells a theological story. Drawing carefully from Luther's own words, this book introduces readers to a kindred spirit who struggled with what knowing God through Scripture means for daily life. They will understand what was at stake and how powerfully liberating Luther's idea of grace through faith was—in his time and in ours!
In crisp, enjoyable prose, author Danika Cooley conveys both the drama and the meaning of the Reformation for younger readers like no one before her!"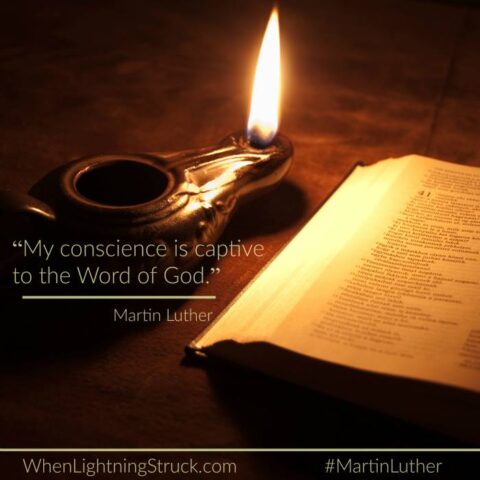 Danika Cooley Interview
1. What inspired you to write When Lightning Struck?
I absolutely love Christian history. I think that understanding our family history is vital to understanding the way God works in history, and to being able to understand the current trends in theology–the same heresies that the Apostles addressed have plagued the Church throughout the last two millennia. As the "Father of the Reformation", Martin Luther is a particularly fascinating and important figure in the history of the Church. Also, his story is exciting–he lived in the time of castles, princes, and knights; he risked his life for the sake of the Gospel; and he became an outlaw, was kidnapped, and more.
2. What was your main goal in writing When Lightning Struck?
I wrote When Lightning Struck! so that young people will have the opportunity to learn about an incredibly important figure in Church history–and about theology–in an engaging manner. Really, I wrote it with my two middle school boys in mind. I wanted to make Christian history come alive for them.
3. Which part of researching When Lightning Struck was the most personally interesting to you?
We have so much information about the stories Martin Luther told about his life, that I really enjoyed finding those stories and incorporating them into When Lightning Struck!. It was also really important to me to get the theology involved in the story correct, and I found that aspect of the story fascinating.
4. What did you learn from writing When Lightning Struck?
My research notes are about three times as long as the book! I learned so much about Martin Luther, the Renaissance Popes, the papacy, and the structure of medieval monastic orders. In order to tell the latter parts of the story in which the Protestant leaders were debating over the manner in which Protestants should live out their faith, I really had to study quite a bit.
5. With all of the duties that you juggle, when do you fit in the time to write?
For me, finding time to write is the same as finding time to exercise, eat, or sleep. I consider it a necessity, so I work hard to make time for it. I've also sacrificed other activities to fit it in. I don't watch television, I prioritize my time, and I often write when I might otherwise be sleeping.
6. Is your writing style different now than it was when you first began? In what ways have you grown in your writing?
I think it's taken me time to find my voice and hone my skills, and I suspect that I will continue to improve as a writer–we always get better at the things we practice.
7. What would you say to a young person who aspires to be a writer? What advice would you give? Also, what would you tell his/her parents in order to help them be supportive in their child's efforts to pursue writing as a career?
The most important thing you can do is learn how to write. It's also important to learn about the industry. Find writer's conferences and workshops, attend, take notes, and really learn from the authors there. Don't let rejection letters stop you–just keep working on your craft. I'd also suggest finding a mentor–someone who is already writing for publication–and humbly following their advice. Also, read widely. Read many genres, from different time periods. Practice writing, but as you do, think about what you'd like to say, and who you'd like to say it to.
8. What else do you want readers to know? Consider your likes and dislikes, interests and hobbies, your favorite ways to relax — whatever comes to mind.
I love to play board games with my kids, hike, paint (I majored in art), garden, and cook. I love my family, and I feel so blessed to be able to spend time with them. I homeschool my younger two, and that's just a gift. Teaching children about the Bible, theology, and Christian history is my passion–I hope to be a lifelong student, and a lifelong teacher.
About the Book-When Lightning Struck
It's actually been more years than I'd like to admit, since I read and studied about the life and times of Martin Luther. As a matter of fact, I've never had a resource on the topic that did a better job of drawing me in, keeping my attention and getting me fired up about learning more! Oh yeah, and the kids like it too.
In our family homeschool it is appropriate for my high school student to read and study on his own, and opens the door for deep discussions. I love having the opportunity to sit back and see how the material affects him, watch the Holy Spirit work, and listen to his take on the subject. This book is one of "those" and I personally find that exciting!
For my 6th grade student, and my 4th grader – we are reading out loud together in smaller doses. We LOVE an adventure, and Danika Cooley has a masterful way of sharing that aspect of the life of Martin Luther. Her words resonate with our family as we read and discuss the faith it took for Martin Luther to take a stand. It has led to discussions about how we can take a stand today, and why that matters!
Free Study Materials
We have not even yet dug in to the free study materials that go along with it – the content itself is so rich, we are taking our time to soak it up – AND Loving IT!
ADVENTURE – INTRIGUE – DANGER – COURAGE – SPIRIT – FAITH 
When Lightning Struck has it all. I didn't remember the study of Martin Luther being this exciting – but it really is. There is no doubt in my mind that Danika Cooley was called to write this book, and I'm thrilled at the thought that so many will be hugely effected by it. It is an honor to share this resource with my family! 
As the "Father of the Reformation", Martin Luther is a vital figure in Church history. His sacrifice and willingness to wage battle against the spiritual, religious, and political powers of his medieval world allowed Christians throughout time to embrace the truth of salvation by grace alone through faith alone in Christ alone as explained by Scripture alone.
Author Danika Cooley has written Luther's story for young people in her new book, When Lightning Struck!: The Story of Martin Luther. You are going to love it!

You can get a hardcover copy HERE or the Kindle version and SAVE $10 (only $6.99)       Get one for your teens or pre-teens for sure. It is a powerful resource that will inspire you, as it has me.
I'm so tickled with this book – I am giving away three copies! You can read the Kindle books on computer, phone, or tablet with this  free reading app.
This giveaway is sponsored by me personally – simply because I think it makes a wonderful Christmas gift for ANYONE you love, and I suddenly feel like I wish everyone could have a copy!
By entering the giveaway – you agree to be contacted via email newsletter for Adventure Homeschool &/or sister site Frugal Mommas. We do not spam & your email is protected. We do send out freebies & great deals or home & homeschool information. Unsubscribe at any time in the future.
Giveaway
3 copies of When Lightning Struck! 
FREEBIES for ALL who enter
Flexible Homeschool Planner (see pic in Rafflecopter) 

Christmas Planner  (see pic in Rafflecopter)
Enter with one link – or use them all!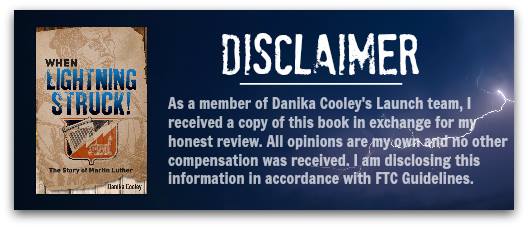 Go HERE to Join
our free Facebook group to get access to the best homeschool deals, tips, and ideas to make this the best year ever!  
Disclosure: We use affiliate links. If you make a purchase with our links, we may receive a small profit, at no additional cost to you. Thank you for your loyalty. Your support helps us maintain the site.